About Team Fly Halo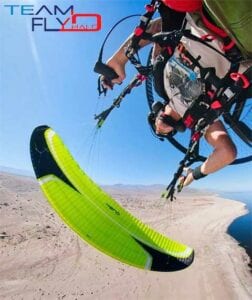 Team Fly Halo (TFH) provides superior paramotor training and equipment across the USA, and is your home for all powered paragliding needs.
TFH was formed in 2012 by three pilots that aimed to take the sport to the "next level." Since then, our hallmarks have been providing industry-leading paramotor training, seeking out and providing exceptional PPG equipment, and pushing the limits of the sport while inspiring pilots by way of adventure flying and media creation. Over the years we've adapted to the ever-changing industry, but we've always kept our culture intact - our "customers" are part of our team. And as our teammates grow in the sport we hope to learn as much from them as they have learned from us. They continue to inspire us as we once inspired them.
We continually "raise the bar" for each other by keeping to standards of safe flying practices, calculated risk-taking/risk management, careful selection of appropriate equipment, and striving to always act as ambassadors to the sport of PPG.
We are not the end-all-be-all PPG dealer/school! We only deal with the type of folks who appreciate our style, jive with our culture, and are stoked to join our team. This means that we do not have a paramotor for every single person wanting to get in the sport - but we are happy to make recommendations as to where you might be happy or what other equipment might suit you.
We absolutely love cross-country exploration, mountain flying, para-camping, and any type of epic-destination flying. We feel this is the purest form of flying, and believe that when aspiring pilots first start to dream about PPG, this is the type of flying they picture themselves enjoying. Of course as anyone who gets into the sport quickly learns, that type of flying carries greater risk if you're unprepared; which is why the majority of pilots in the sport never venture further than quick sunrise/sunset cruises within a few miles of their local flying field (which is still - REALLY fun).
Our company is based out of Montana, however we travel EVERYWHERE! Although we typically find ourselves conducting training on the Northern-California coast in spring/summer, and in the deserts of Southern California in the fall/winter, we're always scouting new training grounds and conducting small clinics all over the US. We attend as many fly-ins as possible, but we also like to visit interesting locales with groups of local pilots to explore for ourselves what the wide world has to offer.
But enough of the generalities/ethos, who are we really?
Canyon Hansen
Managing Director / Owner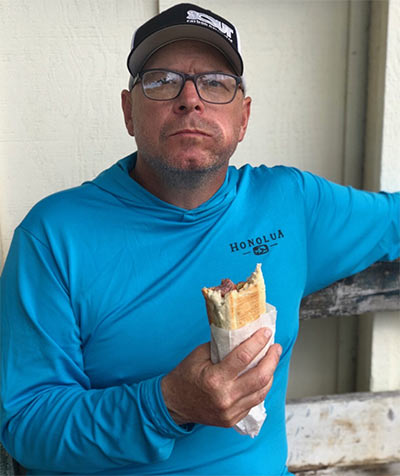 Canyon runs the day-to-day operations in Montana, and has done so since 2017. 
Early in life, Canyon worked as a whitewater rafting guide and safety kayaker in Montana and Idaho during summers, as well as guiding tours on the Grand Canyon. He did several kayaking expeditions in Central and South America. Canyon also excelled at climbing and specifically ice-climbing, as well as taking to the slopes skiing the mountains of Utah in the winters.
Canyon began free-flight paragliding in the pioneering days of ultralights (like a thousand years ago), but shifted his focus 100% to powered paragliding in 2014. He attended a quick transition class from Team Fly Halo, and hasn't come back down to terra firma since. In 2017 he accomplished the ultimate in paramotoring, completion of the Icarus Trophy Adventure Race from Northern Montana to Southern Utah - completely unsupported. He would have won too, if it weren't for that meddling kid Tucker.
Canyon is now a USPPA paramotor instructor, a Vittorazi-certified maintenance technician, as well as a test pilot for Team Fly Halo. He knows the gear, he flies like a pro, and he will bend over backwards for anyone if it helped them enjoy PPG as much as he does. So if you see him out flying around the mountains in Montana, or helping out a newb at a fly-in, go say hi! 
And yes, "Canyon" is his real name.
Shane developed his passion for flying early in his life. After taking his first flight in a single-engine airplane at age five, he knew that one day he wanted to be a pilot. His dad, a private pilot, let him routinely take the controls and fly all over the Pacific Northwest in his childhood years while sitting on a phone book to see over the instrument panel.
After pursuing a private pilot's license, Shane set off to join the ranks of Army Aviators piloting UH-60 Blackhawk helicopters. After three combat tours to Iraq, Shane retired in favor of a "friendlier" form of flight.
After going on a tandem ride with his best friend Byron, he took the "full immersion" path by moving to the Wasatch Mountains in Utah, and flying paramotors or paragliders 3-5 times per week while assembling paramotors in some guy's basement. He began teaching PPG in 2011, and quickly merged into teaching free-flight paragliding at one of the best schools in the country. Training under world-class paraglider pilots at the Point of the Mountain, Shane was able to bring that perspective to the PPG world by integrating tested training methods into Team Fly Halo's school.
Shane helped to create the Icarus Trophy, and functioned as Race Director/Route Planner for the events in 2015-2017. He is also the author of "Freestyle 101," a video series aimed to ease PPG pilots in to high-adrenaline aerobatic flying.
He's recently expanded his family by a fair bit, and has taken a back seat on the team's day-to-day ops. He still travels with us as a Team Pilot as much as his wife and kids will allow, and still sneaks out for a quick aerial adventure as often as possible.
Shane Denherder
Founder / Team Pilot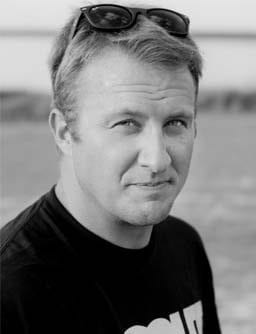 The rules are sparse, and the only objective is to have fun. Of all the forms of flight I've experienced, paramotoring is the truest and most free. No other aircraft can recreate the feeling that an aspiring pilot gets when they dream of flying.
Byron Leisek
Founder / Team Pilot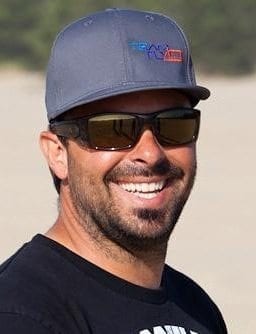 Byron has been flying since he could walk - quite literally. He grew up in a family of hot air balloon pilots, and at the age of 13 soloed in a hang glider off the Oregon Coast. He did a short stint in the military as a parachute rigger, continuing in the airborne tradition that he had grown accustomed to. In 2005, Byron was introduced to powered paragliding, and everything else fell by the wayside. He had the typical progression of a PPG pilot back then, a series of embarrassing and expensive "oopses" until he finally learned the basis on which we teach - glider control.
Amassing over 3000 hours in PPG including cross-country, aerobatic, tandem, speedflying, and paragliding disciplines, Byron has been instructing new pilots since 2013 with his hard-earned emphasis on technique and discipline. 
Byron was one of the first pilots to complete the Icarus Trophy in 2015, and he returned to "enjoy" the Icarus Trophy 2016 from Glacier to Vegas and really explore the entire 1400-mile route. He definitely helped "crack the code" to unsupported cross country, and has inspired countless pilots since then to start pushing their boundaries. Byron lives for the epic destinations, and has had flying adventures all over the world including the USA (both coasts, the Cascades, the Rockies, and Hawaii), Mexico, Slovakia, Spain, UK, and Iceland to name a few. 
Fun fact - Byron may have in fact coined the term "para-camping" in 2011 when he flew to the top of 1100' Eagle Mesa in Monument Valley, UT with all his camping gear and stayed the night - you should google it.
It was Byron's vision of a higher standard in the PPG world that led to the formulation of Team Fly Halo. While the format has been copied-over several times since, we're all grateful for his drive to start one of the most successful schools back in the "old days," and fundamentally change the way people get involved.
I'm super grateful to be a Team Fly Halo pilot, and I'm very excited for the adventures and travels ahead.
Jeff was one of the original three that started Team Fly Halo, but his story has a sad conclusion. He was obsessed with aviation and all-things-flying his entire life. Being the son of a senior Navy officer, Jeff was surrounded in his childhood by the real-life "Top-Guns," which further solidified his continual need to be in the air.
At age 14 he began flying lessons in southern California, but soon discovered PPG and knew that was how he wanted to fly. Jeff had flown many different fixed wing aircraft, but much preferred the freedom and the unobstructed view that PPG provided. He always had a craving for adrenaline; partaking in track days with his hopped-up e30, blasting the Hampton Roads on his Ducati, or racing a sketchy 2-stroke kick scooter around his subdivision in flip-flops, but he became hooked on powered paragliding after his first flight in 2008.
It was rare to find Jeff flying straight and level. He was always upside-down, carving aggressive turns down low, dragging a wingtip, or locked in a mirrored spiral with his buddy Shane. He loved to fly as often as possible, buzzing the fields around his home of Chesapeake, VA, or taking his wife Jessica tandem in the Outer Banks. He also traveled the West with the team, and flew dozens of amazing locations throughout the Southwest including the Grand Canyon, Monument Valley, and even a few laps at Burning Man.
We don't think anyone in the world could find a bad thing to say about Jeff - he was one of those guys in the sport who was at the top tier in skills, completely humble, and super-helpful to any pilots who made contact with him over the years. Jeff tragically lost his life in 2014.
Team Pilot Ryan Southwell made an incredible tribute video to Jeff's passing in 2016 - which tells his amazing story and involvement in the sport, showcasing in high-quality video the life he lived and the flying friends he left behind. View the short film here to celebrate Jeff's amazing life of adventure.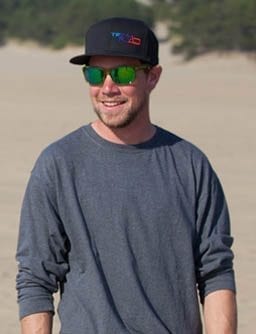 We all share a common experience - our love for flying. Even though we have all these differences in our cultures, [when flying] we can instantly bond and become great friends.