Paramotor Training
Team Fly Halo paramotor training has always been known for being a fully-immersed, comprehensive course designed to fit in the timespan of a vacation. Our instructors are thorough, knowledgeable, and dedicated to giving you the skills and know-how you need to successfully and safely start the sport of powered paragliding. As always, TFH "Alumni" continue their progression long after completing their PPG lessons by being an integral part of our team. Coaching never stops, and you're always invited back to scheduled training classes to learn advanced skills, brush up on ground school, get some extra flight time, or just come out and fly with the new guys.
We now offer Team Fly Halo "Basic Training" powered paragliding classes with or without a gear package. Click here to see our schedule.
Schedule
Basic Training Dates:
With our training program we like to keep our groups small with only 3-5 students per session. We finished up our Southern CA season and are in Northern CA for the spring/summer - we will be back down in SoCal next fall. Here are our upcoming dates:
Northern California (Arcata/Eureka)
September 16 - September 24
September 30 - October 8
October 14 - October 22
October 28 - November 5
Southern California (Salton Sea)
November 25 - December 3
December 9 - December 17
2023 XC Adventure Training
See our "Cross Country Training" page for details.
Module 1:  November in Southern CA
Module 2:  November in Southern CA
Scout & Team Fly Halo WINGMAN CHALLENGE
Absolute adventure and absolute comradery! Epic cross country adventure for experienced pilots September 17 - 30, 2022.
**SUCCESSFUL ADVENTURE COMPLETED FOR 2022 **
Looking forward to another incredible adventure in 2024!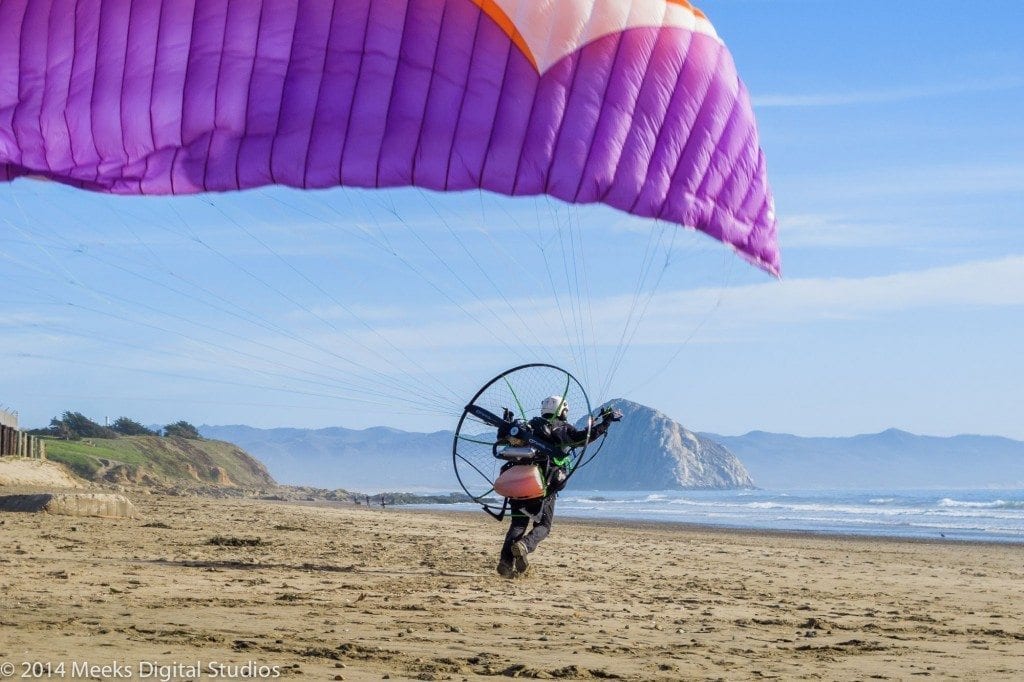 TFH "Basic Training" differs from our previous program in that the classes are small – maximum of six students. There are nine training days total - you will be responsible for finding your own way to class and local accommodations, but we take care of the rest! All training gear and study material is provided by TFH, you just get yourself to class with a great attitude ready to give it your all.
Basic Training is geared for those who are fully committed to joining the sport, have done their research, and know that Fly Halo is the team to join. While we do provide gear for training, we ask that you use us as your source for all things paramotor, and purchase a package. We make that easy by applying a $500 package discount for all TFH students purchasing a paramotor, wing, and reserve. Tight on cash? No worries – we believe that it's better to get quality used equipment vs. new "low end" gear. Just let us know your needs and we'll do our best to find the right fit.
Basic Training Overview
TFH "Basic Training" paramotor flying lessons bring smaller groups together for a slightly more condensed course, without excluding any of the fundamentals or the experience.
We have always believed that glider control is paramount – and our courses focus on getting you to a level where you are always in control and knowing what the glider is doing. We achieve this through a multitude of ground handling drills, several hours practicing with the glider in low wind, high wind, and no wind. We round out your glider control experience with paragliding or "free flight" drills that range from short hops off the dune to all-out ridge soaring when conditions allow. We tie this in with instructional tandem paramotor flights as well as "ground drills" with the paramotor on your back. By the time you've mastered all the ground skills, you are ready to execute a safe supervised solo and begin knocking out the in-flight tasks.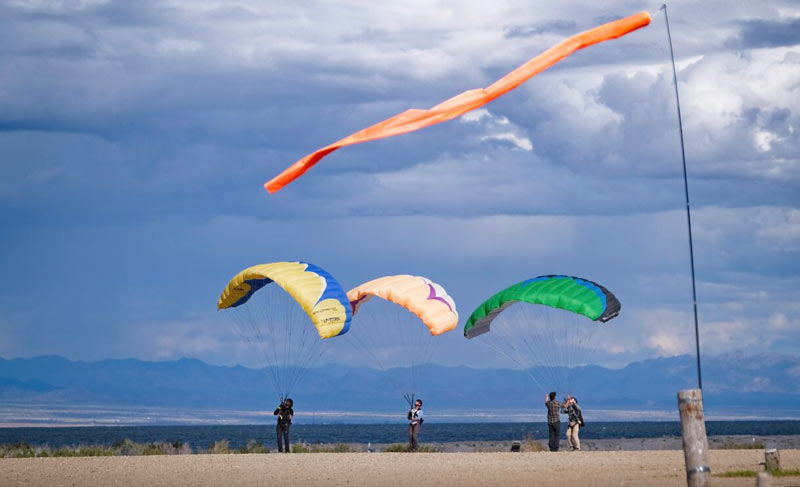 The students we train leave as competent, skillful, and ethical aviators ready to start exploring the world on their new craft. We have a great relationship with past students, and all are encouraged to always communicate their experiences with us after the initial training.  Alumni are welcome to come back to attend future classes to further skills, get more flying time, or just to have fun and meet the "newbs."
Call today to see if you're a good fit, as our courses fill up fast!
What's Included?
Our Basic Training PPG course is a 9-day, fully immersed, intense and fun program. It is designed to give you the skills and confidence to fly with the best of us. Training includes:
Equipment use
Ground School
Weather Theory
Reserve Training
Glider Control Mastery (4-6 days before you even take flight)
Limited free-flight experience
Tandem Training
Supervised Solos (2-4 days)
Any and all ratings you qualify for
"Forever training" for alumni wishing to come back (space available)
We offer students ASC and USPPA ratings, for those who wish to pursue and earn them.

Training Sites
Our training sites offer world-class conditions with a variety of scenarios built towards crafting you into a well-rounded pilot. Situated on California's northern coast, The Eureka/Arcata area is our primary spot for laminar winds and friendly weather which provides optimal training time for our team. When the temps drop and the weather gets gray, we shift down to the Salton Sea which is a huge landlocked reservoir in Southern California which provides ocean-like laminar winds and warm temps for winter training. 
Multiple lodging options are available at both locations, and Eureka even has the option to lodge right on the airport just footsteps from the training area. If you're thinking about planning your trip, give us a call or drop us an email for all the details you'll need to bring your dreams of personal flight to life!