Crafted in the UK with precision, Parajet is known for incredible attention to detail and beautiful design.  Parajet is without a doubt the class-leader in lightweight titanium, and robust aluminum paramotors.
Owned by Gilo Cardozo, an eccentric designer and adrenaline junkie whose forward-looking designs and initiative have always kept aviation-level-standards in the former cottage-industry world of powered paragliding.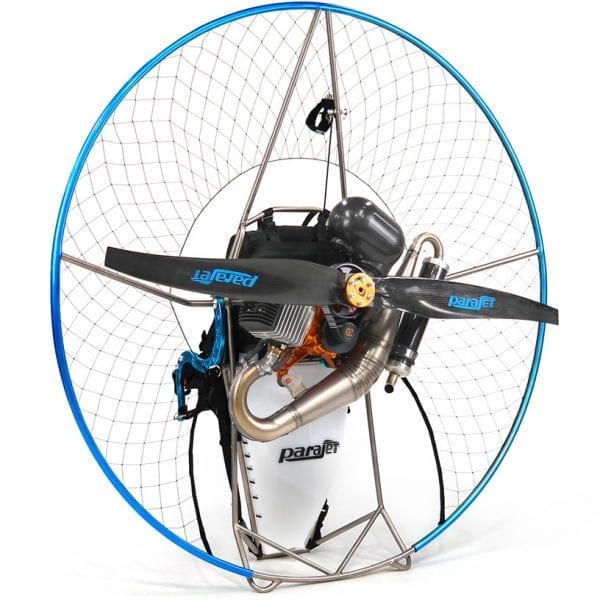 Maverick
Parajet has hit home run after home run since we started representing them in 2012. Their flagship model - the Maverick, is the culmination of 18 years worth of refinements in an ultra-lightweight and high-performance design. Parajet's CNC gooseneck arms provide comfortable hang point geometry and ease-of-adjustment. The snap-fit cage netting makes for easy and quick assembly. The compact package feels incredible on your back and makes launches/landings a breeze, while still sporting the potent Moster 185+ engine for unparalleled power-to-weight ratio combined with reliability and ease of use.
Inside the box, you'll find a strong and light Titanium Chassis featuring plug-and-play connection and the easy Snap-Fit net. High-performance Vittorazi power and a Parajet harness that is truly focused on comfort
Maverick Sport
Getting one up on Maverick, the Sport runs cooler and weighs even less. Displaying the same innovation and benefits as Maverick, the Maverick Sport also features, Carbon Cooling Shroud, lightweight Carbon E-Prop and Maverick Travel Case
Maverick PRO
Pro by name and nature – for those who think two grams are worlds apart. With the same lightweight features as the Sport, Maverick Pro also includes a CNC engine block, Titanium Exhaust, Carbon Silencer, Carbon AirBox and Maverick Travel Case
Volution 3
The extremely robust V3 is the ultimate for pilots who want something absolutely bomb-proof. It's substantial extruded-aluminum hoop and four-piece cage make it a solid package - while still retaining Parajet's refinements in handling, weight shift, and torque-compensating rigging. This is a great paramotor for heavier pilots, pilots launching at high altitudes, or pilots who just can't seem to get their feet down when landing.
The latest generation of the Volution Paramotor respects its heritage without being a slave to it. The Volution 3 is pure Parajet – the culmination of all the experience gained through their pioneering design, engineering innovation and Paramotoring expertise.
Unmatched rigidity and strength
High-tension, wide-profile aircraft-grade alu-magnesium alloy uprights offer unmatched rigidity and strength to safeguard you through even the hardest of knocks. On the ground, the V3's wider stance offers greater stability and control so you can completely focus on your flight preparation and 'hub-to-harness' checks.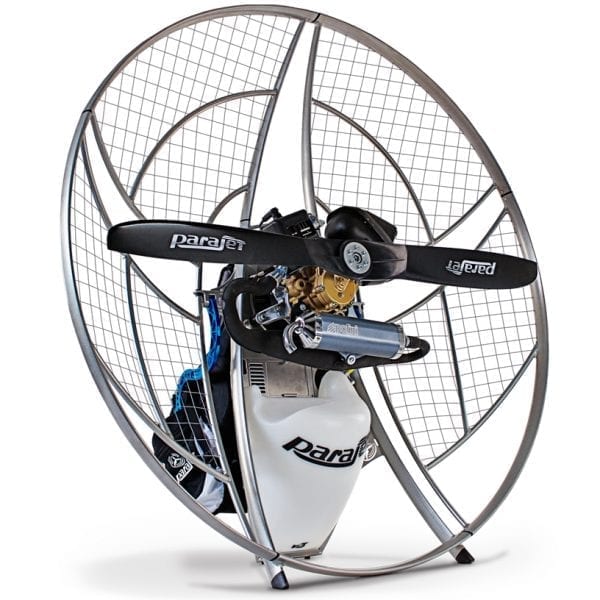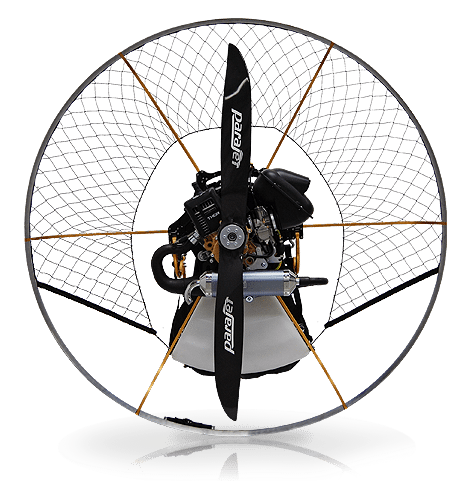 Zenith
The "Zenith" paramotor has been the benchmark for lightweight and portable paramotors since it was first displayed in 2011. The sincerest form of flattery is of course imitation - which is why we now see dozens of new brands on the market that copied the highlights of  too-similar stamped aluminum modular frame, CNC cage spars, and extruded aluminum hoop sections.
Take it anywhere
Lightweight and durable, the Zenith is also ultra-portable. To our knowledge, there is not a more compact package after disassembly on the market, making the Zenith excel at PPG-tourism. Pilots report being able to disassemble or reassemble the Zenith in less than 8 minutes. We cut our teeth traveling the country with the Zenith, and can attest that it is the perfect paramotor for the "trunk-to-sky" pilot who loves to travel the country in his Miata.
Still on top
While it isn't the latest design in Parajet's inventory, the Zenith was a revolution in paramotor design and is still lightyears ahead of many other popular models.
If you want ultra-portable in an affordable top-tier design, the Zenith may be for you!
Infinitely Customizable
Parajet is a major operation, relatively speaking. Whatever your needs, they have the capability to configure your next paramotor any way that suits you.
If you appreciate the subtle design features and engineering that make Parajet top-notch, give us a call today and see if we can help you find the perfect configuration!